Kaitlin Reiss
UX designer
First Launch
UX/UI
The Project
A First Launch Experience is the very first thing a customer will see when they launch an app. It's important to carefully design an experience that welcomes customers. This project was for the launch of OmniFocus 3.
Competition
The first thing that I took a look at was competitive research, and our existing UI. Apple provides subscription design advice as well:
Guide Expectations, Present products and handle transactions in a way that feels at home in your app.

Be Mindful of the Customer's Money. People appreciate the flexibility to choose a subscription that best meets their needs.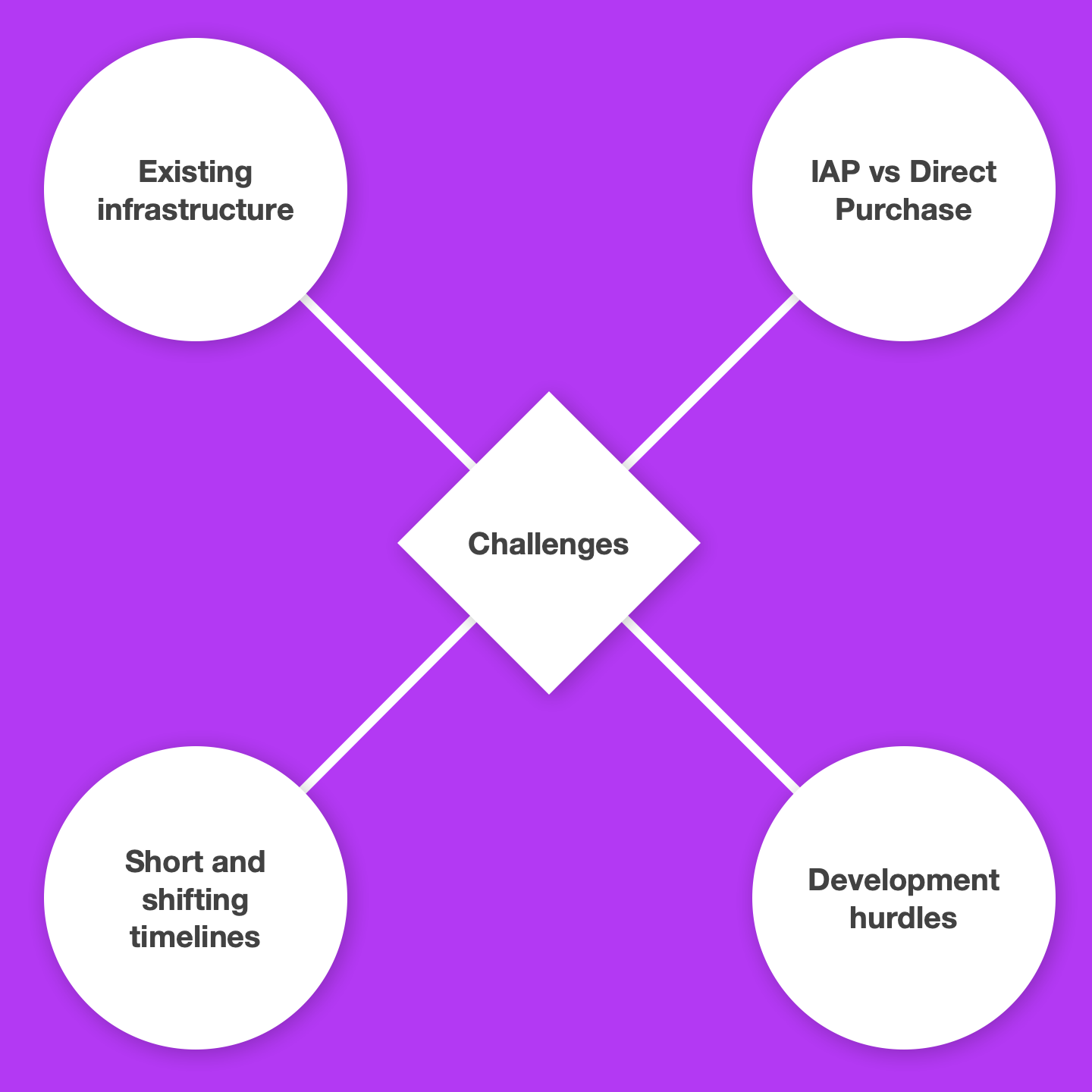 Challenges
Existing infrastructure
The new first run was not going to be entirely built from scratch.
Short and shifting timelines
The OmniFocus team is small, so each person on the team can be responsible for many things at once and flexibility was critical.
Development hurdles
Sometimes ideas are only good in theory! We would always try to plan for design to work within development constraints and not create work that would...create even more work.
IAP vs Direct Purchase
Since the Omni Groups sells Mac products directly from their own store, and Mac and iOS apps though the App Stores, there had to be different designs for those different licensing experiences.
Goals
I consulted with the Project Manager, Design Manager, and developers to come up with the scope, content, and required features:
Existing customers should be able to unlock easily

New customers should know their options

Existing customers should be informed of how to get OmniFocus for the Web
Who Are You?
In my process, it's important to keep in mind the perspective of the customers. I made a list of the different customer cases that would encounter the first run, since they would have different goals.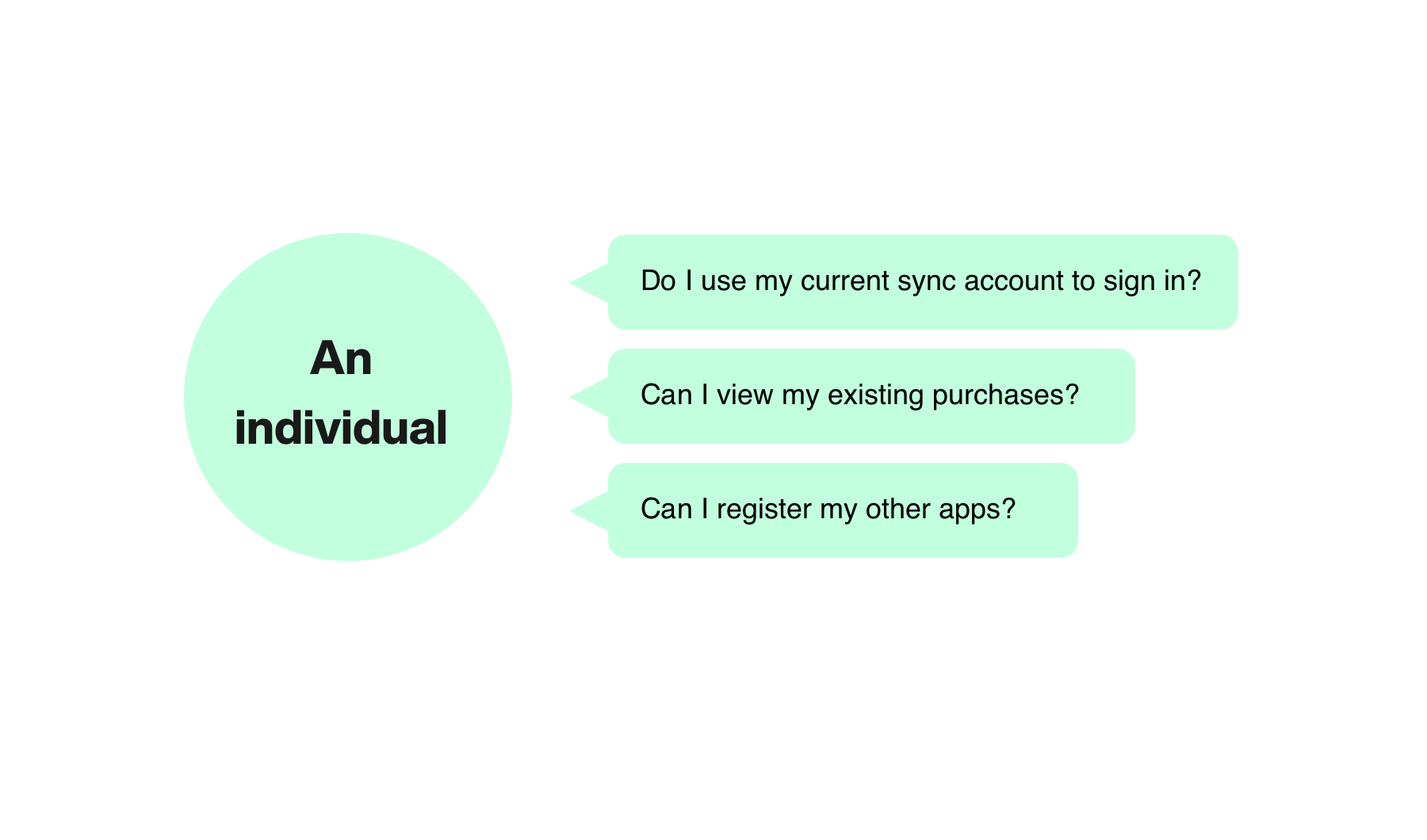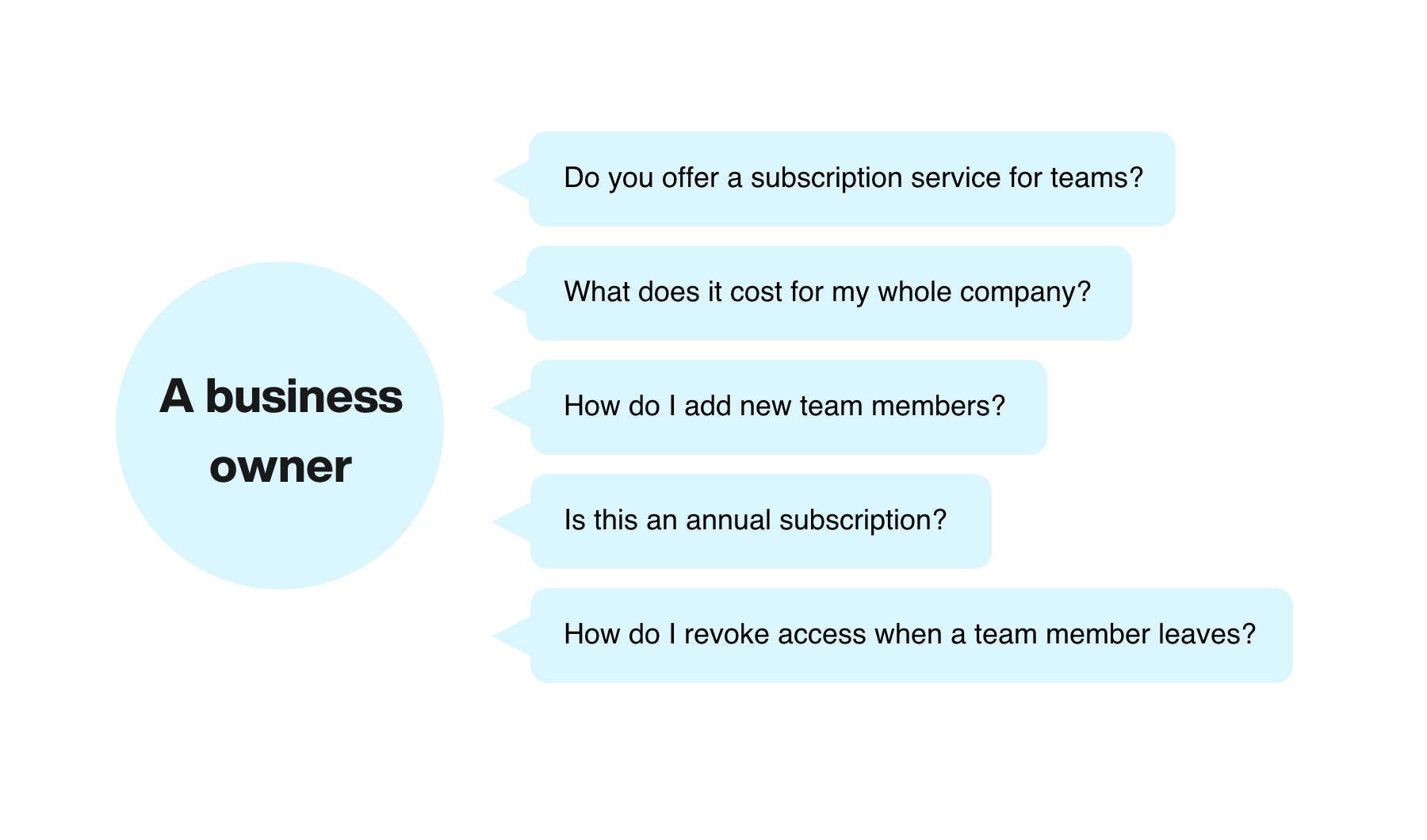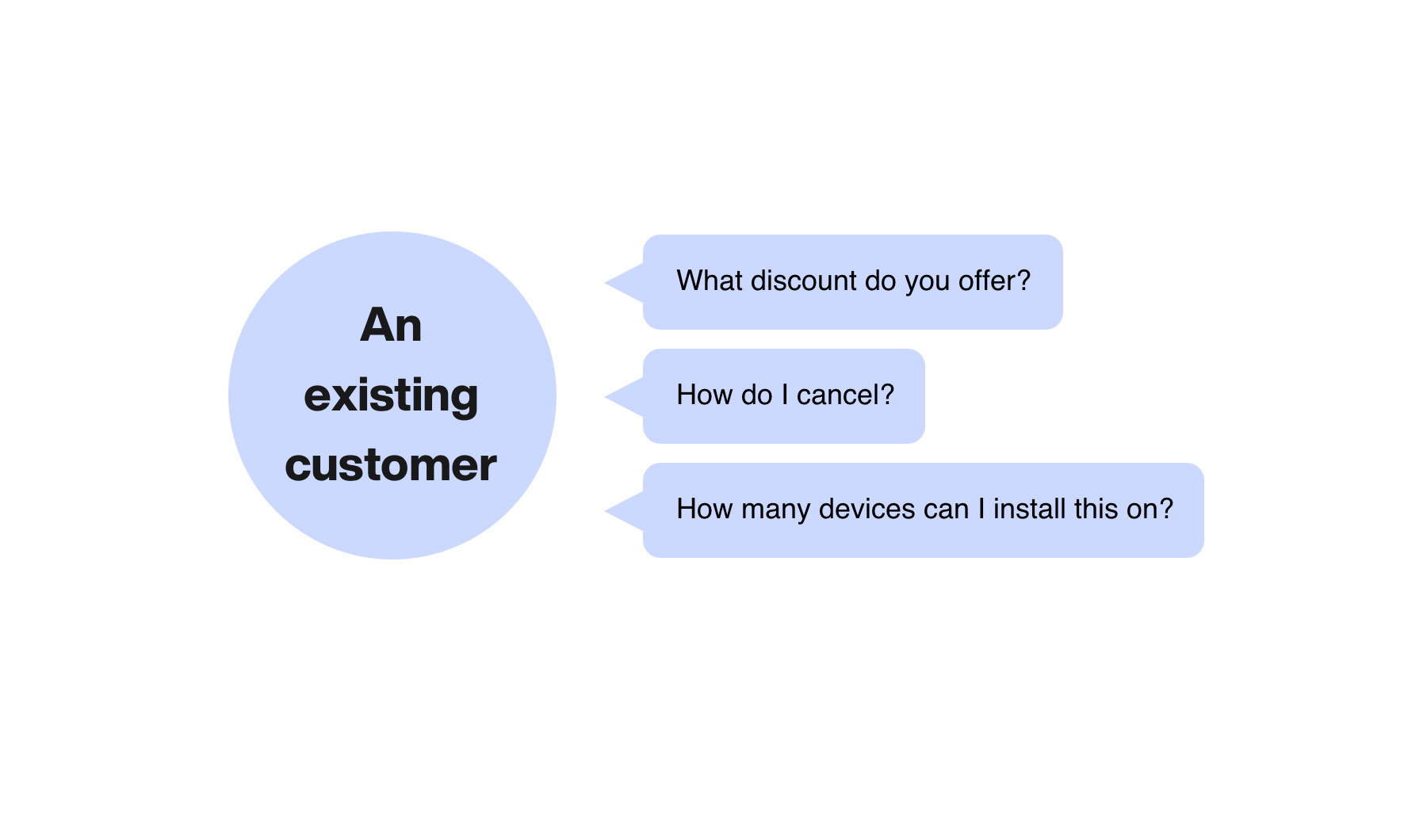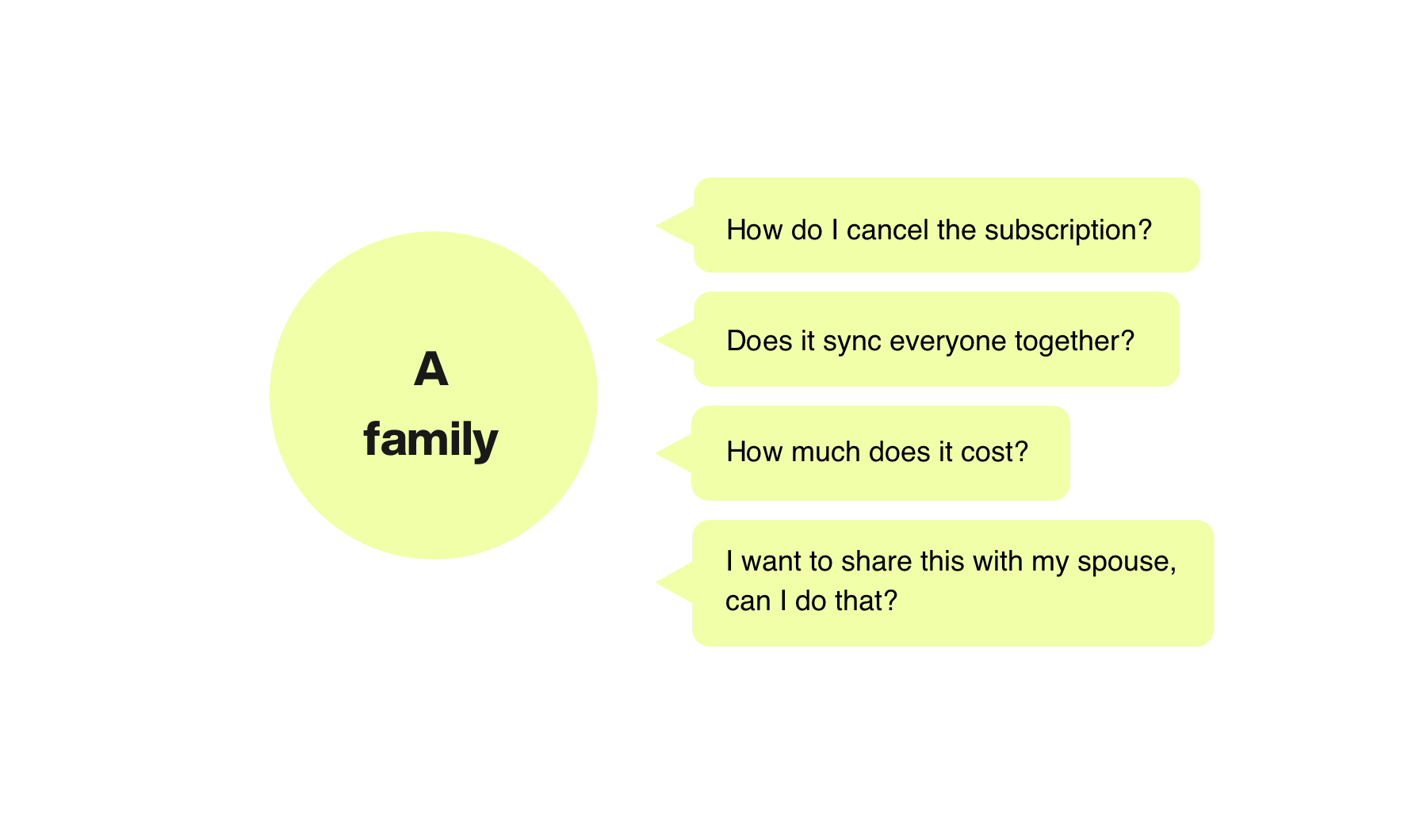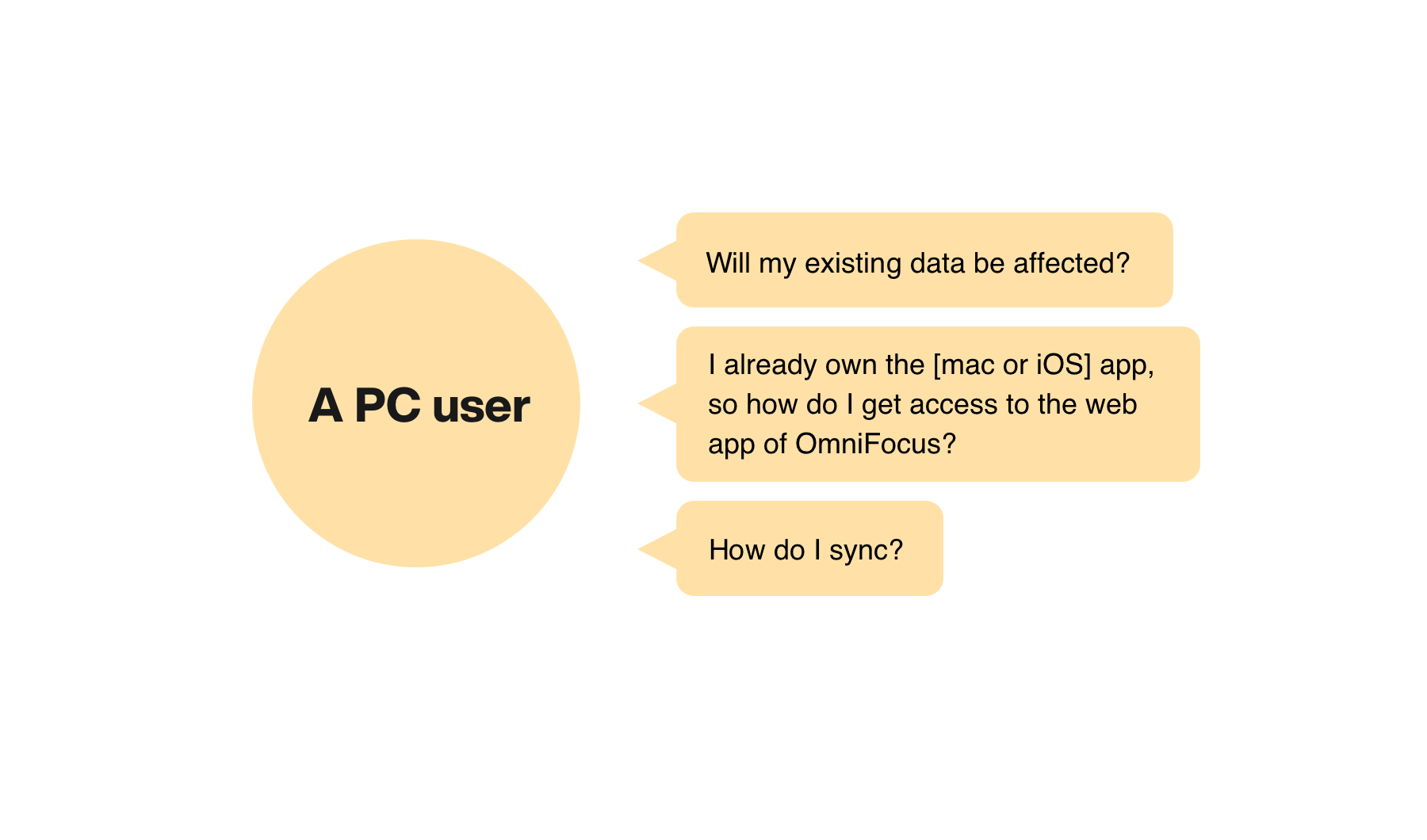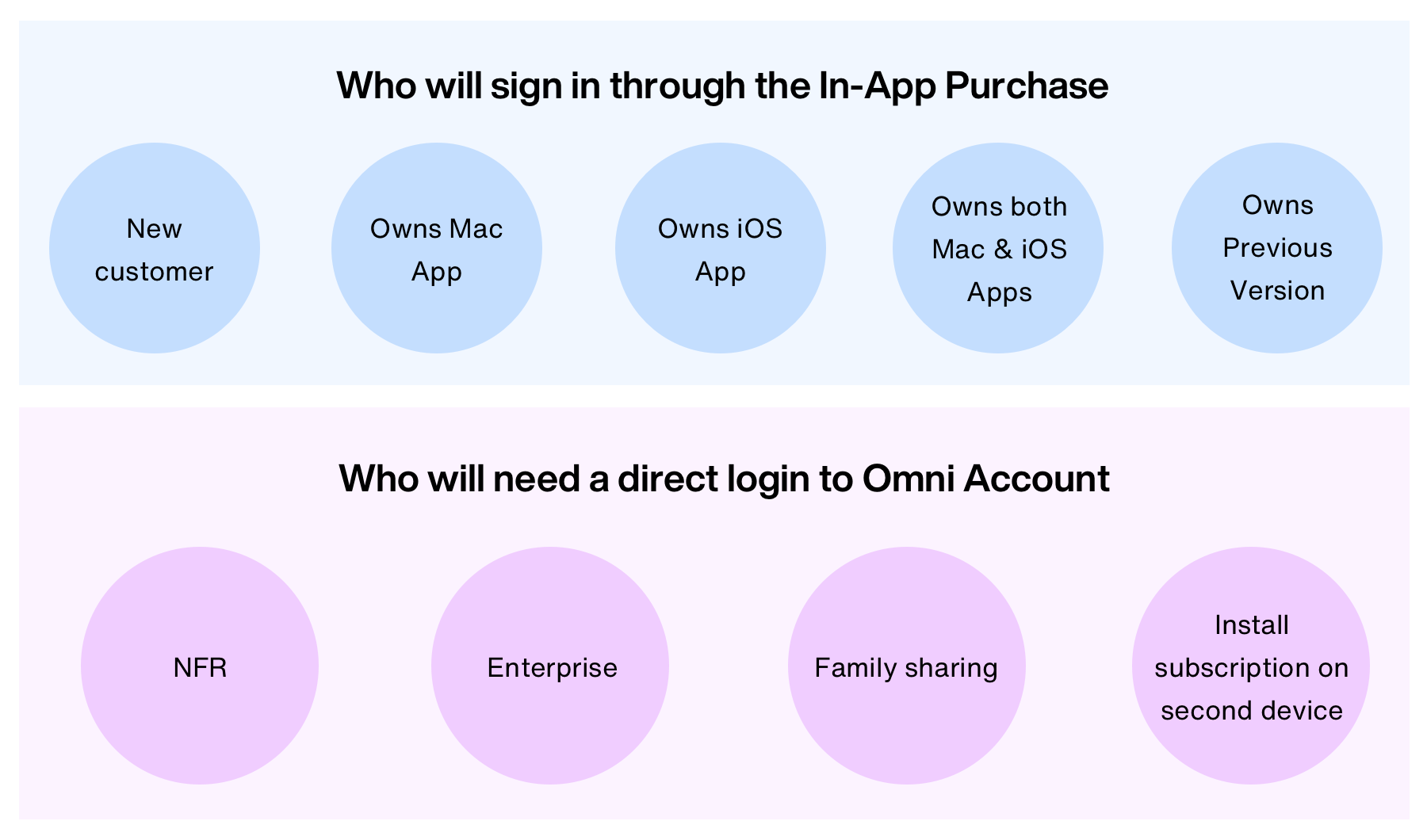 Let's discuss
I worked with the core OmniFocus team; a small group of engineers and testers as well as the team's Product Manager. I would occasionally spend time discussing my ideas within the UX team to gain additional design insights. I regularly presented work to the extended OmniFocus team which included team members from engineering, testing, design, documentation, support team, and the executives.

Many, Many Maps
Maps were critical to this project. I made 2 main types of maps that evolved over time. One map type was a flow chart of all the different journey possibilities. The other map type was specifically for UI appearance.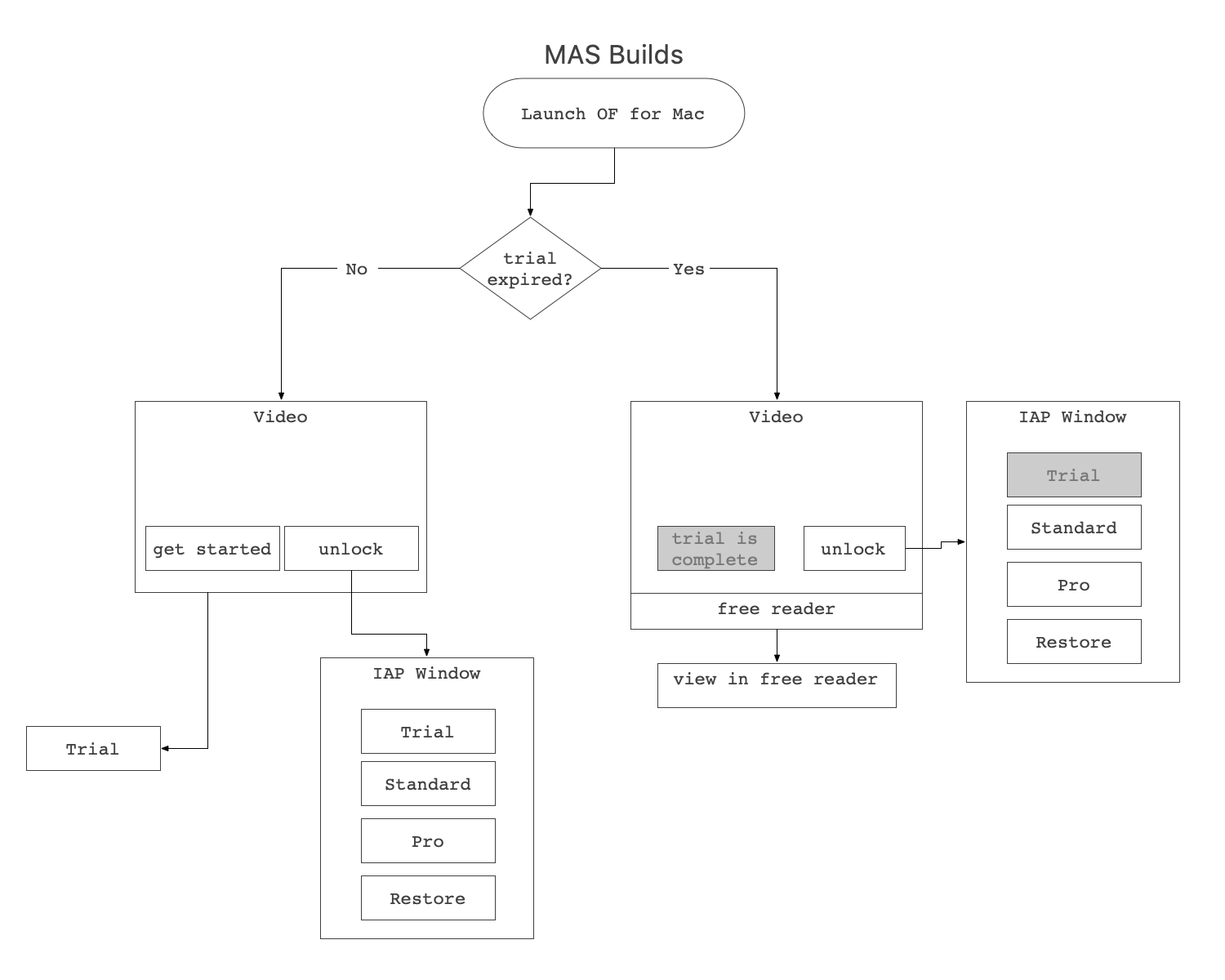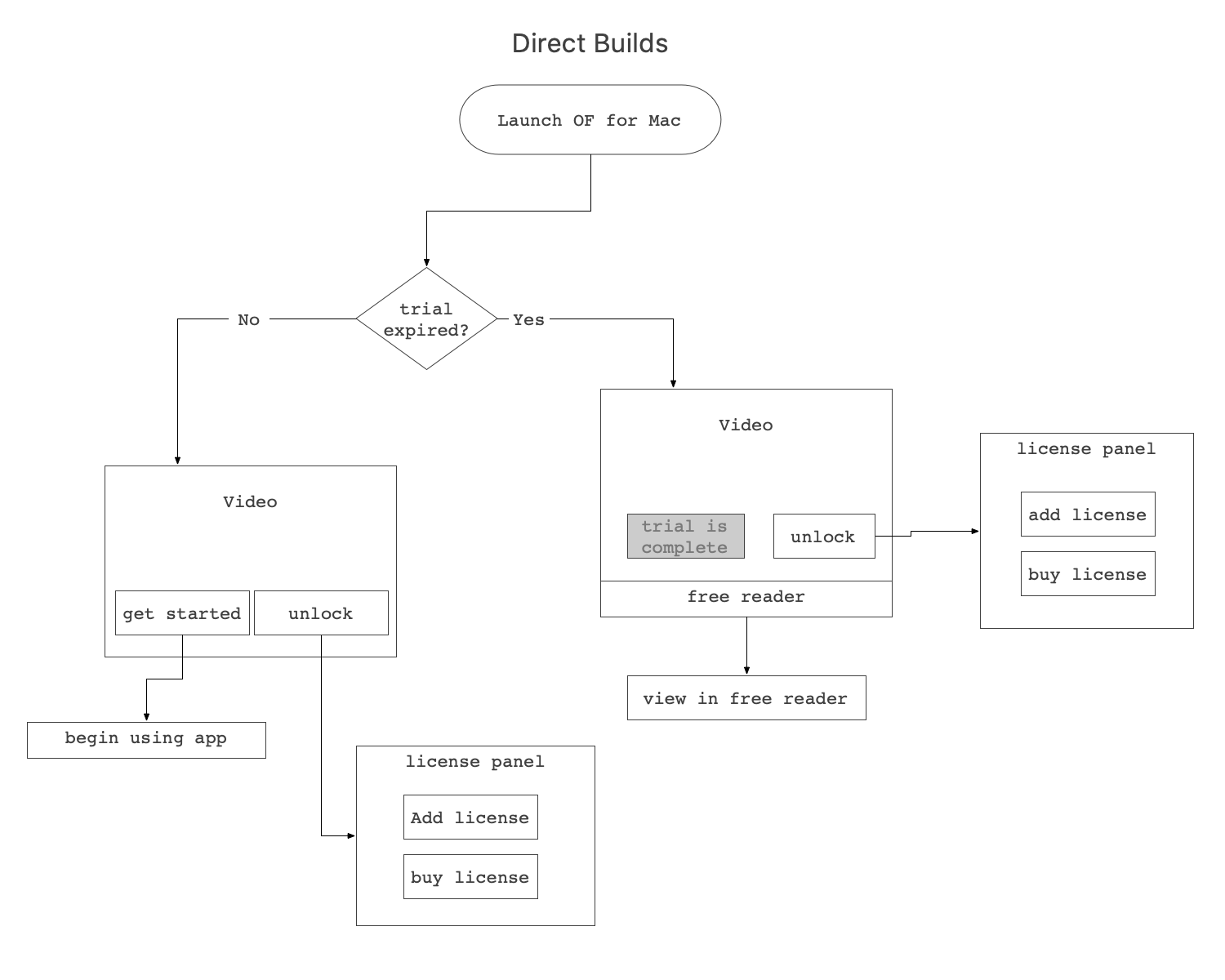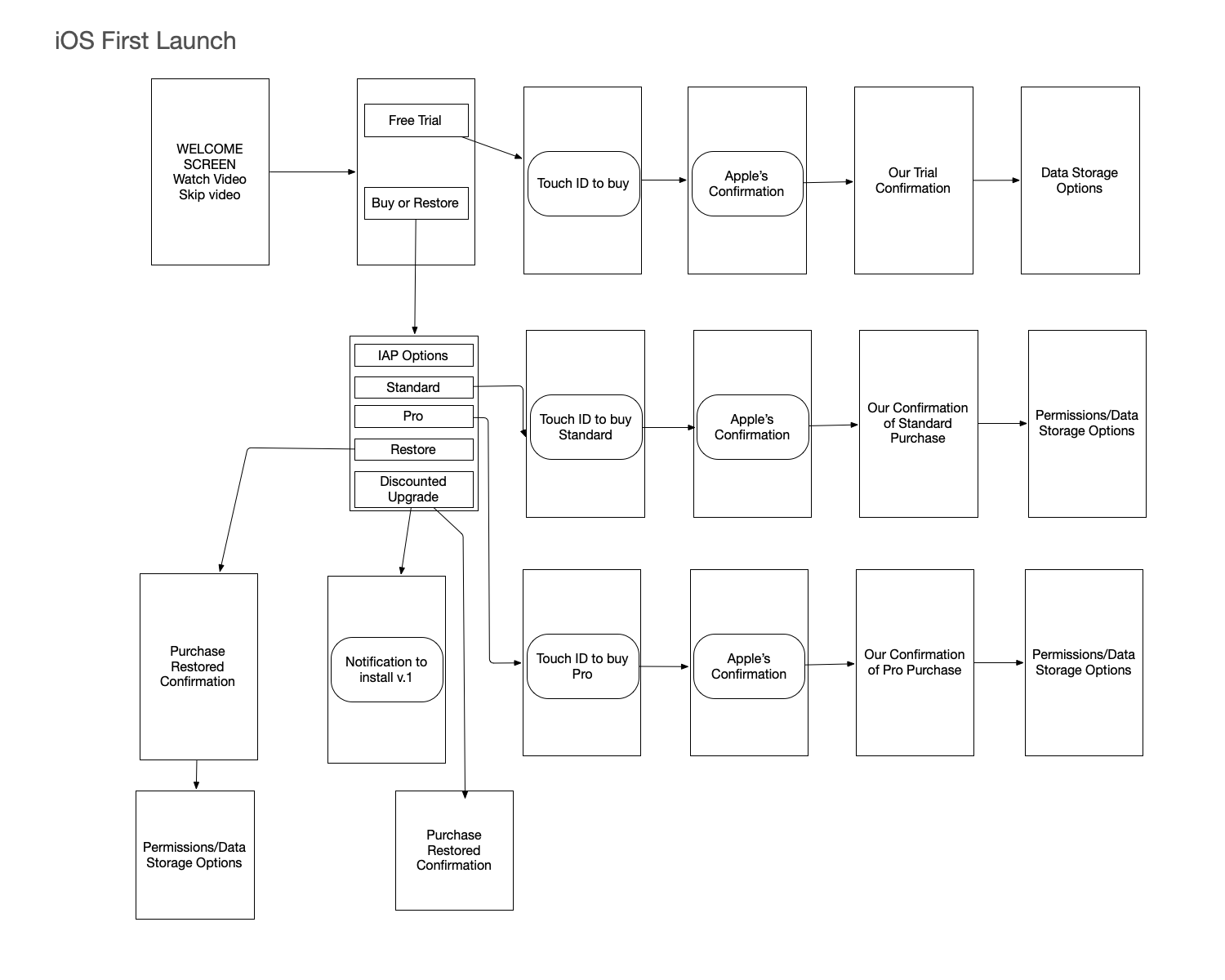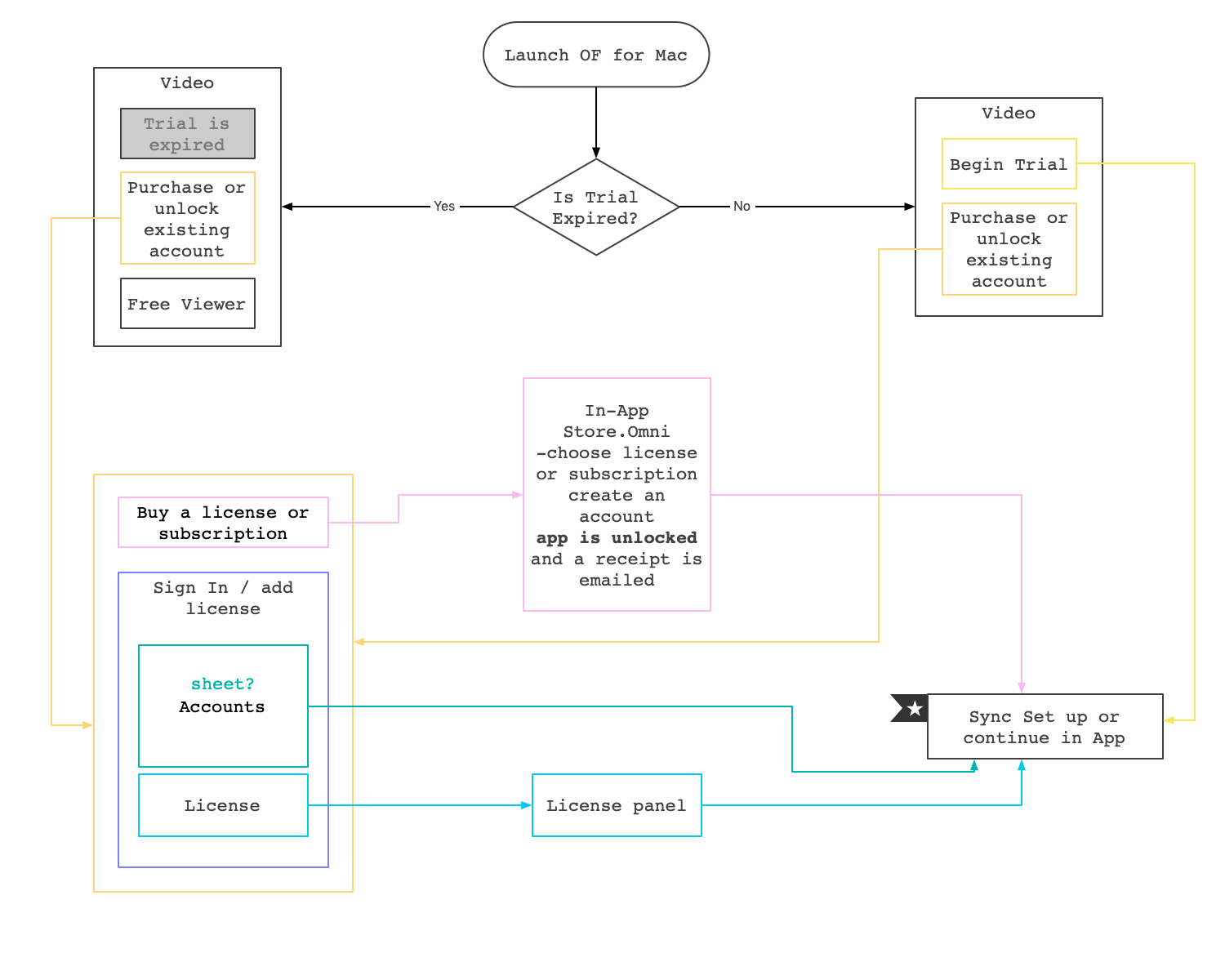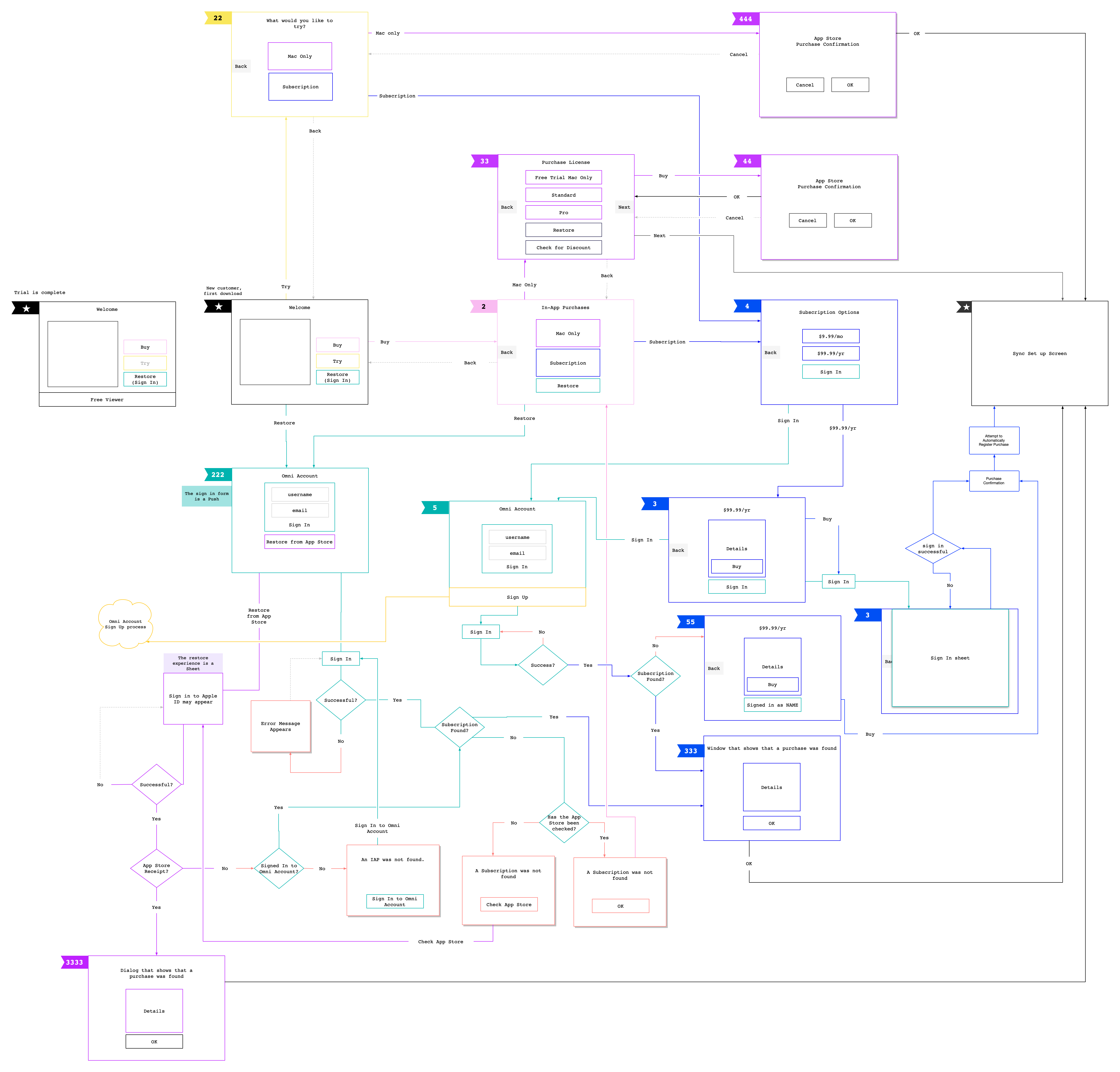 Accommodating Deliverables
Several developers worked on building the First Launch, so I tried to be thorough and consistent with all of my deliverables. Eventually, I would used high fidelity mock ups as a deliverable for developers to use as a map for building the first run experience.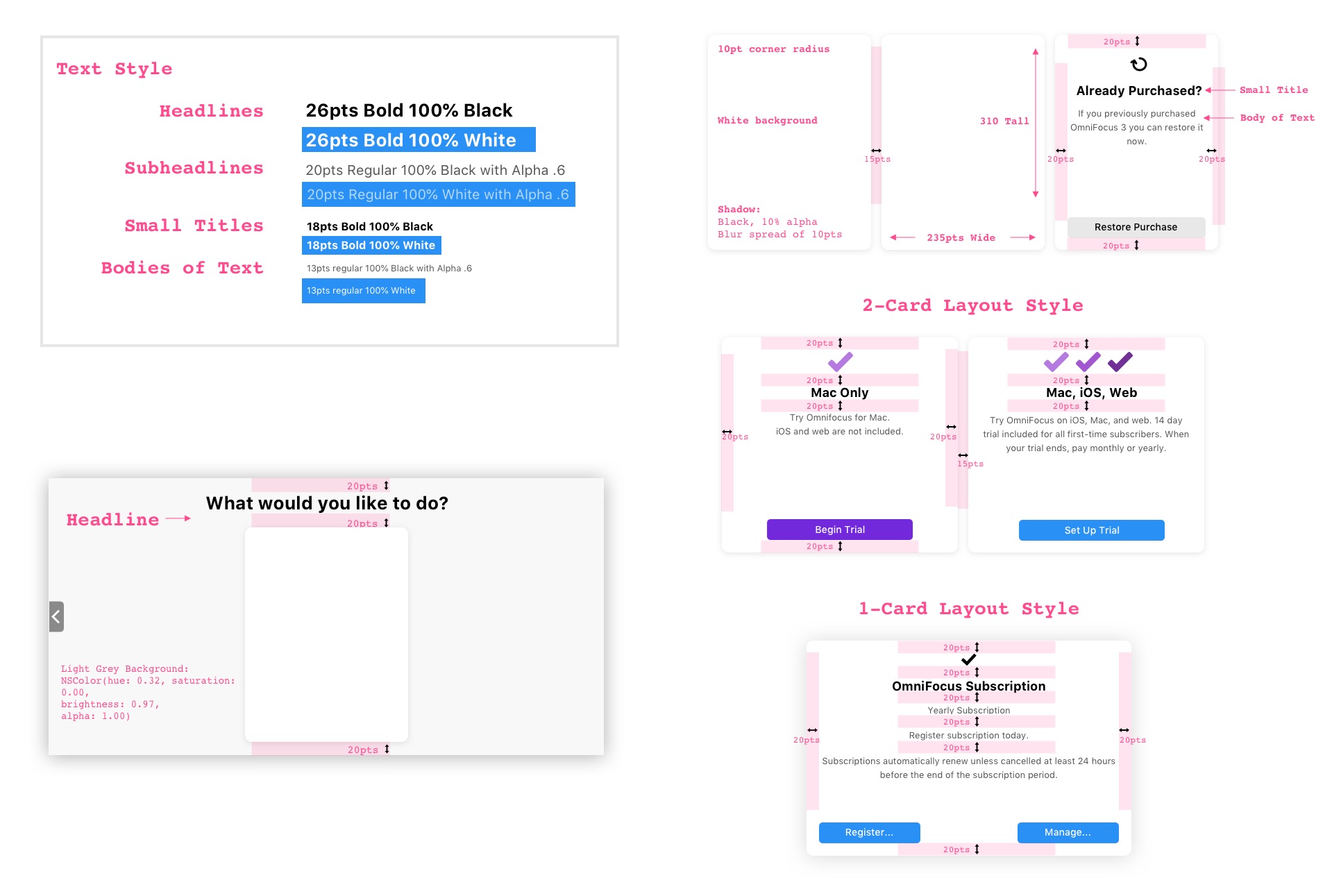 Let's get a feel for it
Once the maps of the launch had been determined, I created a prototype of the First Launch so we could get a feel for the experience. This would expose any gaps or assumptions we would need to reconsider.
Clear and Simple
There was a lot of complex UX work that went into this design, but the end result is a tidy and simple experience that will help customers to get started as quickly and painlessly as possible. Below is the finished iOS App Launch experience.